This time I will write about wet cat foods. I wrote already about "What your cats shouldn't eat" as well as "Feeding cats – when and how" and "How to read labels?".
Last time I made a list of dry foods so that when you find yourself in a jungle of colorful packages, empty slogans and cosmic prices you will be able to choose food you can afford and whose content is good for your pet.
Today I will give you my personal subjective ranking of wet cat foods. I have been thinking how to present the information to make you understand well the differences between them. I found the example of mice very helpful.
How to understand what the cat needs? Wet cat food
To understand how to read the wet food ingredients you need to imagine the perfect cat food, namely a mouse.
Cats eat the whole mouse – meat, fat, stomach with its content, all amino acids, vitamins and minerals the tiny body contains.
If we take a can of wet food and we see that the first ingredient is offal, such as heart, liver and stomach and we don't know whether it is good or bad we need to think if the same things are found in a mouse.
If chicken is in the first place we need to ask ourselves which part of chicken it is. Most likely if it was chicken meat the producer of the food would want to advertise that so if there is only enigmatic "chicken" on the ingredient list the producer is probably trying to hide which part of the chicken was used.
If we see that the only ingredient is chicken fillet and broth we should question lack of the other ingredients. When cat gets a mouse does he eat only the meat? You need to remember that cat is not a man.
If there is grain in the food we need to ask a question if mice have anything to do with grain except for romping in it. If not, then why is it in the food?
If all the vegetables and fruits of the world are listed on the label we need to ask if our cat is vegetarian. I don't think so although some people might consider this idea – I would like to stress here that it is not a good one. Although cat needs some veggies they shouldn't be more than 5% of his diet.
By answering the above questions we can easily analyze the ingredients of the wet food and assess whether the producer really cares about our animals or only about the profits.
Subjective list of wet foods
Best cat foods
Below are few groups of wet foods for cats. The first group – the best wet foods – contains foods with the best ingredients (the best in my opinion). These foods are like "Mercedes" of cat food. Their prices vary so please take a look at the table at the end of this article. I will analyze two foods out of each price range as they represent pretty well the characteristics of the entire group.
Moonlight (numbers 11-18, 21-26)
Catz Finefood – veal flavor:
Veal: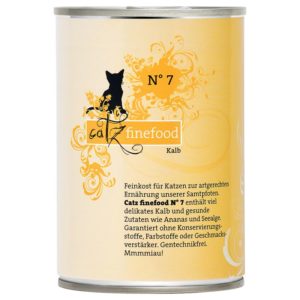 70% veal (contains approximately 50% of heart and muscle meat, out of which approx. 2/3 is meat and 1/3 is heart; approx. 50% of offal including 1/3 of liver, lungs and kidneys), 27.45% water, 1% apricots, 1% pineapple, 0.15% taurine, 0.15% linseed oil, 0.15% sea salt, 0.1% seaweed.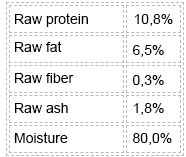 Advantages:
70% of the content is meat and animal byproducts. They are the main source of protein in this food. We also know where they come from because the producer says: "Only the highest quality meat and offal from German farms and fish from free fishing are ingredients of this food. Valued, fresh ingredients are included in Catz Finefood after detailed check and veterinary control".
Ratio of protein to fat is ok – Protein 10.8% and fat 6.5%
Ratio of phosphorus and calcium is normal – Calcium 0.2-0.3% and phosphorus 0.15 – 0.25%
For each flavor the producer lists what animals the meat is from as well as mentions the kind and amount of offal used
The food contains supplements such as egg shells (Salmon with poultry and Lamb with rabbit) which are important source of calcium and linseed oil which is beneficial for proper functioning of digestive track
Low carbohydrates content of 3%
Enough taurine – 0.15% (approx. 0.6mg)
Some vitamins – A, D, E, vitamins from group B, C
Disadvantages:
It seems that the producer stopped adding sea algae which are necessary for the cats to keep their fur on their backs and not on our clothes/span>
The food contains small amounts of potatoes and rice
There is no information about omega 3 and 6
Feringa: rabbit and lamb
Lamb and rabbit with cranberries and cress
35% rabbit meat (heart, liver and meat), 35% lamb (heart, meat, lungs and liver), 26.9% broth, 2% cranberries, 1% mineral ingredients, 0.1% watercress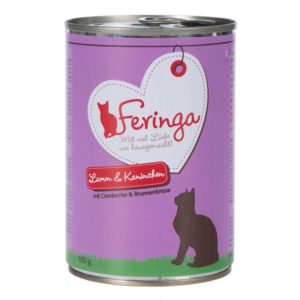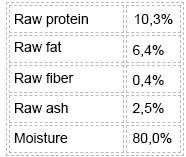 70% of the food is meat and offal very nicely described on the label. Producer ensures that healthy animals and their fresh meat are used to make this food and not waste from slaughterhouses.
High protein content of 10.3% and good fat content of 6.4%
Good ratio of calcium to phosphorus /span>
Each can contains two different sources of protein – two different kinds of meat, which is good for the health of your pet
Only 2% of carbs in dry matter so a perfect choice for diabetic cats
Some plants are added but not too much
Vitamins D and E are present but there is no A and B
Good taurine content of 1500mg
Just like in the previous food there is no info about Omega 3 and 6
Out of minerals only zinc and selenium are mentioned; there is nothing about calcium, iron, iodine and copper /span>
Despite few rather minor disadvantages these wet foods look really good. If they are the base of your pets' diet I recommend you supplement the diet with Omega 3 and 6 by adding to the food fish oil as well as ground egg shells and some taurine once in awhile.
Good cat foods
The second group of foods I would compare to reliable Skodas. They are not luxurious but they are definitely good foods and they are often cheaper than the first group and more accessible as it is quite rare to find "Mercedes" in a local store – I haven't found any. Availability is very important because we might forget to place an order in time and cats need to eat.
Let's take a closer look at popular Animonda and Bozita.
Animonda Carny (not vom feinsten!)
Animonda Carny- beef
BEEF:
Beef (65%, meat, heart, lungs, liver, udder and kidneys), calcium carbonate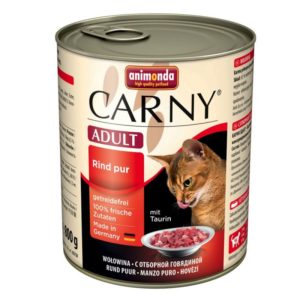 Label says that meat and offal are 65% of the food but what is the rest? It is a lot of meat but there is no fruit or vegetables, which should be present in small amounts/span>
Good content of protein and fat/span>
We don't know how much calcium and phosphorus are in the food
Only 3.33% of carbs in dry matter
There is vitamin D, iodine and zinc but what about the rest
There is no information about Omega 3 and 6
Enough taurine – 0.8mg/span>
Bozita – rabbit in sauce
Rabbit:
Chicken, rabbit (7.2% in pieces), beef, pork, calcium carbonate, yeast (ß -1.3/1.6-glucans 0.01%).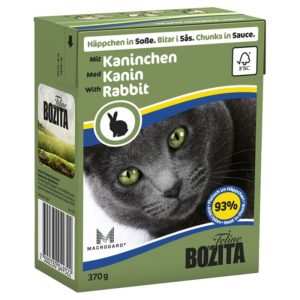 I would like to clarify certain ambiguity. Producer on the website says "high meat content up to 93%". "Up to" being the key word. 93% is a very high number compared to a number shown on the next page where the food content is listed. The only percentage we know about is 7.2% of rabbit. Again we don't know which part of rabbit it is – is it the meat, offal… About the chicken, which is listed in the first place, we don't know anything – neither which part of the chicken it is nor how much chicken there is. We don't know how much beef, pork there is either…it looks like we don't know anything. Producer should be asked these questions.
A bit too much protein and too little fat
Enough calcium and phosphorus
Not a word about veggies and fruit
Nothing about Omega 3 and 6
Taurine 0.7 mg – just enough
There are vitamins A, D, E and iodine, zinc and copper
Carb content is 7.6% so it is not bad/span>
Low quality cat foods
Products in the third group are very popular, readily available in most stores but unfortunately not appropriate to be a base diet for any carnivorous animal. They could be enough for unrefined herbivore … but probably not.
Everybody knows that Whiskas and Kitkat are fast foods for cats and that is why I decided to take a closer look at luxuriously looking Miamor and famous Mister Royal to see if it has anything to do with royal quality.
Miamor – tuna with chicken
With tuna and chicken meat and meat byrpoducts (10% chicken), fish and fish byproducts (10% tuna), plant byproducts and minerals
Vitamin D3 (200 u/kg.), vitamin E [as acetate α-tocopherol] (100 mg), copper [as copper sulphate (II)] (2 mg), manganese [as manganese sulphate (II)](1.5 mg), zinc [zinc sulphate] (5 mg), iodine [calcium iodide] (0,5 mg)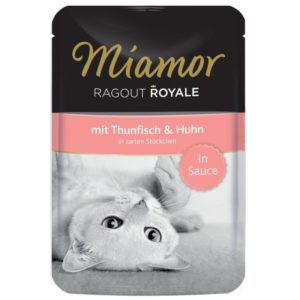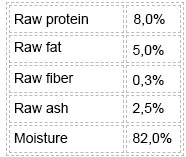 First of all we don't know what is in this food. In the first place we can see these magic words "meat and meat byproducts" so that is already bad news (same story goes with the fish mentioned in the second place) and in the parenthesis the producer put a whole 10% of byproducts (maybe to confuse the buyer and not to put magic "4%" which many people notice even if they cannot analyze the ingredients well. To add more confusion, producer mentions chicken – not chicken meat but just chicken so we are getting some bad kind of chicken waste here.

In the third place we have plant byproducts…seriously?
Thank you very much for vitamin D, E, zinc, copper and iodine but how much taurine is in there?
12.22% of carbs – way too much (probably coming from these plant byproducts)
…but the designers did a really good job with the packaging: dark colors with beautiful gold font could be indicating a really exclusive content … could be but it is not! 
Royal Canin sterylized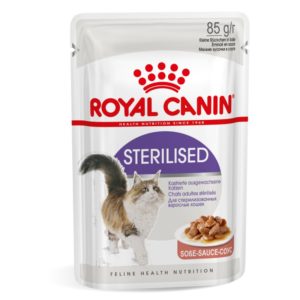 Ingredients:
Meat and meat byproducts, grains, plant byproducts, minerals, vegetable protein extracts, sugar
Physiological additives:
Vitamin A (15000 u/kg), vitamin D3 (100 u/kg), vitamin E (30 mg/kg), E1 [iron] (25 mg/kg), E2 [iodine] (0.32 mg/kg), E4 [copper] (2 mg/kg), E5 [manganese] (2 mg/kg), E6 [zinc] (19 mg/kg)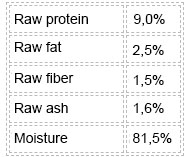 As always the analytical composition of Mister Royal is very extensive. It does not bring much to the table; however, I'm glad that somebody took the time to list so carefully this rather simple content:
The content looks quite mysterious. We know there is no meat, only the meat byproducts. We don't know what animal(s) all this came from…maybe the producer does not know either. There is no percentage composition.
In the second place we have grains – awful
Plant byproducts – really?
Sugars – why would cat need sugar?
Carb content in dry matter – 21.08%. It is a very inappropriate amount for cats, especially sterilized ones. Below is the quote from the producer's website: "Only 48 hours after castration your cat's food intake increases by 20%. At the same time the need for energy-yielding nutrients decreases by 30%. Reduced carbohydrate level leads to increase in sugar level in the blood thereby preventing premature hunger.
It is a joke right? I don't think any further comments are necessary.
Fillet foods – what are they?
There are also foods called fillet foods. In general, if you take a look at a shelf in the pet store you could use this name for all the foods because only few will fully fulfill your cat's nutritional needs. But what does the "fillet" food mean? Well you can compare them to delicacies such as chocolate – they will not hurt your cat but they should be given only from time to time. They do not have all the necessary ingredients so they cannot satisfy all the nutritional needs of your cat. To stop yourself from buying your cat little packets full of pieces of yummy chicken breast you need to understand fully that cats have different nutritional needs than men and that the chicken breast is not enough for them in the long run (well a man wouldn't live long and healthy life only on chicken breast and rice either).
Below is a list of fillet foods:
Here is the food calculator – thanks to this tool you will be able to check carb level in dry matter in any food that you buy for your cat.
The best thing about my blogging is the fact that I learn every day. I created this blog to educate pet owners about well being of their pets and through this awareness I hope to improve life of few cats. After few posts, especially those about food, I have to say that I made the life of my own cats better. Nobody knows everything and I'm glad that beginners as well as very experienced cat owners who know lots and can share their knowledge visit Kicikot. Thank you all and I'm waiting for more tips from you.